---
Neville Goddard - Audio - Amnesia - The Sleep Of Death
---
Neville Goddard - Audio Lecture - Amnesia - The Sleep Of Death
---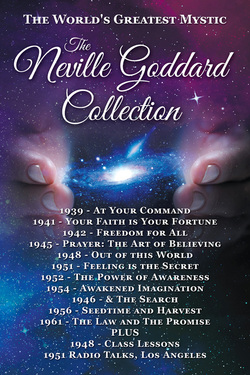 Introducing The Neville Goddard Collection.

It has been my pleasure to devote my time to improving one of the best books available, in my humble opinion, and give students of Neville a more enjoyable reading experience.

What's new in The Neville Goddard Collection? For starters I have reformatted his entire collection of 10 books. This makes it easier to read, understand and comprehend. I have also added 2 of his more famous lectures, The 1948 Class Lessons and The 1951 Radio Talks, making this the most complete Neville book available. While his 10 books covers most of his material, I felt what was missing is now covered in these 2 lecture series.

Included in this Neville Goddard Reader are: At Your Command, Your Faith is Your Fortune, Freedom for All, Prayer The Art of Believing, Out of this World, Feeling is the Secret, The Power of Awareness, Awakened Imagination & 1946 - & The Search, Seedtime and Harvest, The Law and The Promise, The 1948 Class Lessons/Lectures/Instructions & The July 1951 Radio Talks.


---
---
Listen to Neville Goddard Audio Lectures in his own voice. If you are truly seeking the truth of being, of the biggest secrets of life, you are going to learn them through Neville Goddard Books and Lectures.