Neville Goddard Books
Recommended Books and Their Descriptions
---
---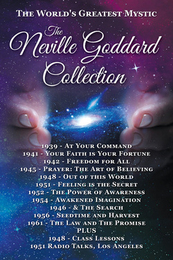 JUST PUBLISHEDINTRODUCTIONThe Neville Goddard Collection
is priceless collection of the best mystical books, any seeker of truth will ever likely come across, in his or her lifetime. This volume not only contains his 10 mystical masterpieces of metaphysical truth, but also includes his 1948 Classroom Lessons, (his most famous) and July 1951 Radio Talks, both of which could and should be considered books in themselves.
Click here for The Neville Goddard Collection's Books and Chapters index.
Over 800 Pages of Neville Goddard in one volume, formatted with the reader and student in mind.

Neville's books are priceless in of themselves and such a collection is deserving of attention to detail in the manner in which it is presented, which will make any student's study, not only more enjoyable, but easier to digest. I believe I have accomplished just that with this collection.
Reformatted, reconstructed, with an entirely new layout, "The Neville Goddard Collection" will make studying a pure joy.
The truth you are seeking is to be found within this book. There has never been a teacher of truth that has been able to reveal it to the rest of us, quite like Neville Goddard.
While most 'teachers' profess that there is a power within us or use words like law of attraction, universe, subconscious or source, they never tell us exactly what this source or this power is. Neville tells us exactly what this power is, he tells us exactly how to use this power and he doesn't use fancy words to capture the attention of the reader. He explains in full detail just how to obtain all the desires of your heart, which is through consciousness, imagining and feeling, without having to "work" to get it. The world is at your command.
Without Neville's books, most people will never know or discover the truth of who we really are and how consciousness, awareness of being, assumption and imagination fused with the feeling of the wish fulfilled are the real creators of our reality and by understanding that, we now know that The I AM within us, is the operant power.
Editors Notes:
There are many noticeable differences in this collection of Neville Goddard's books that you are not likely to find in any other of his books or collections. As a student of metaphysical literature, I have come to appreciate the value of having a well formatted book which has greatly enhanced my learning curve. It was with this in mind that I have undertook this project, a labor of love, in reformatting, revamping and restructuring the entire layout of Neville's 10 books as well as two of his finest lecture series, the 1948 Classroom Lessons and July 1951 Radio Lectures/Talks. My reason for this is simple. It is easier for me, and I believe for anyone, to absorb the material of any book, especially a book of this caliber, when the formatting or layout isn't a distraction to the reader and allows them to put all their efforts and concentration into the content itself, which after all is the main purpose of studying a book such as this. I believe this new formatting will maximize and facilitate the students time as well as enhance the overall experience of studying the world's greatest mystic's teachings. I feel I have created an ambiance which will allow the reader to absorb the material with much greater ease. Changes . . . Improvements Made Wider margins, improved formatting/layout, chronological order of the year the books were originally published rather than alphabetical, with the exception of the 1948 Classroom Lessons and 1951 Radio Talks, which have been placed at the back of the book.
I have left the chapter indexes out at the beginning of each book. Rather, I direct you to the master index at the end of the book, should you choose to locate your favorite chapters or books. There is a Book Directory at the beginning. The title page of each book now has the original year of publication for that specific book. I have also changed the headings. This will make it easier to know where you are in the book, while reading it, which I feel is important considering this book contains several different books and lectures. Each page heading now shows the title of the book . . The chapter number . . and the chapter title. This makes for an easy reference point no matter where you are in the book during your studies. I have removed the reference to verses (such as John 1:1) from all scripture and instead have centered and italicized each one, as to set it apart from Neville's teachings of that scripture. I believe the point he was making was about scripture and which actual verse it was, had no actual bearing on those interpretations. I have reserved 10 Pages for Notes, placed at the end of the book. This makes it more convenient, when referring back to them, rather than flipping through the book looking for specific notes. Also I have included suggested reading of other books at the end of the book, for those readers who are seeking more truth, from this mystical world we all live in.
David Allen
---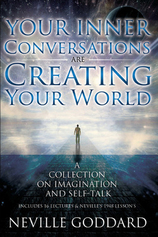 Your Inner Conversations Are Creating Your World

If your inner speech is not a match to your fulfilled desire it is incapable of birth.

Your inner speech is creating the world around you. How you view the world, seeing your desires as already accomplished facts, not as something to obtain but as present realities is one of mans greatest discoveries. To be free from the limitations of the senses and the bondage of reason by awakening the power of your own inner talking is to be a truly enlightened individual. To witness the world around you unfold according to your own words is a revelation. To discover that our own inner speech from the premises of the wish fulfilled is a secret of the ages. Our outer world mirrors our inner world, our inner speech. Do not judge according to appearances but see the truth that you are creative by power of your inner word. The ancient mystics of the past knew this mystery and now those who have this conscious understanding can have all things added to them.
---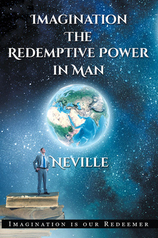 Imagination: The Redemptive Power in Man

Having searched far and wide for the highest understanding of what imagination is and how and what it does for those who do understand it, I have yet to come across any author or single book that will equal Imagination: The Redemptive Power in Man.

This book is a compilation of over 600 quotes from the works and mind of Neville Goddard. Now what does that even mean, you say? While I believe, after reading the book, it would make complete sense, that does not help explain, what I believe is invaluable to the student of truth, the law of attraction or metaphysics, prior to reading it. So maybe a peek into a couple of the quotes, will reveal to the reader what lies within its pages.

Quote 597. Born in the little island of Barbados, we kept ducks and chickens for our own consumption. If mother wanted a pair of ducks for a Sunday dinner, ten days prior she would tell one of her nine sons to put a brace of ducks aside. Now, our ducks were raised in the yard and fed on fish, which was cheap and plentiful . . and not on corn, which had to be imported and was very expensive. We could buy a bucket of fish scraps for a penny, so we fed the chickens and ducks fish; consequently they smelled of and tasted like fish. But if they were separated ten days or two weeks before you wanted them for dinner, and stuffed with corn and food of that nature, the entire texture of their flesh changed.

During that interval of time however, they could not be given even a little bit of fish. They had to have a complete, radical change of diet. If mother's command was not remembered until perhaps four days before the meal everyone knew it, because when the birds were plucked and the heat began to express the birds, the entire neighborhood knew the Goddard's were having fish for dinner, and no one could eat them. But if their diet was changed from fish to corn . . and only corn for that interval of time . . we had delicious ducks for dinner which tasted like ducks! Now, although we are not ducks we do feed on ideas. Feed your mind a certain idea for one week and you will change its structure. Continue for two weeks and you will be well fed on lovely thoughts.

You see, this is a fictitious world and you are its author. Nothing is impossible! It's all fiction anyway, so live nobly and dream beautiful dreams; for you are all imagination, and your human imagination is the Lord God, Jesus . . the Christ.

Quote 323. Now this is how a man is born of water and of the spirit. If I told you now that an assumption, though false, if persisted in, will harden into fact, that is a truth, that is water. But water is not enough. You must catch the spirit of it and apply that truth. Well, if I know that if I assume that I am the man I want to be and persist in that assumption, I would gradually become that. If I have that knowledge, that"s marvelous. But not to do it is to try to bring this being to birth by water only. We are told this is the one who came by water and the blood. Not by water only, but by water and the blood. In other words, I have the knowledge, but I cannot bring to birth my ideal by bare knowledge. I must put it into action, I must do it. Then when I do it, I take my savior and I crystallize him by the doing. This is the story of our wonderful Easter. This is your own wonderful human Imagination. - Imagination: The Redemptive Power in Man

Imagination is the truth that sets man free.


---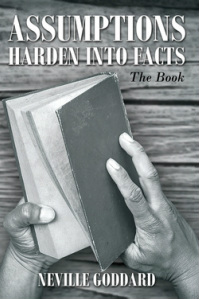 Assumptions Harden Into Facts: The Book

What do we know about The Law of Assumption? Does everyone understand it? Does everyone think it is a Law? Are there different kinds of Assumptions? This book, which is a compilation from the books and lectures of someone who I personally consider The World's Greatest Mystic, Neville Goddard, explains, as no one else that I know of, what The Law of Assumption is, and how, when we understand it, we can shape our reality through the application of it in our lives.

Neville Goddard (1905-1972) is a man who has left his mark on the world, with subject matter, that during his lifetime, few others seemed to give their attention to. That is changing. The world is waking up and one day Neville Goddard may get more credit for it than he ever did during his lifetime. And it will be well deserved. - David Allen


---