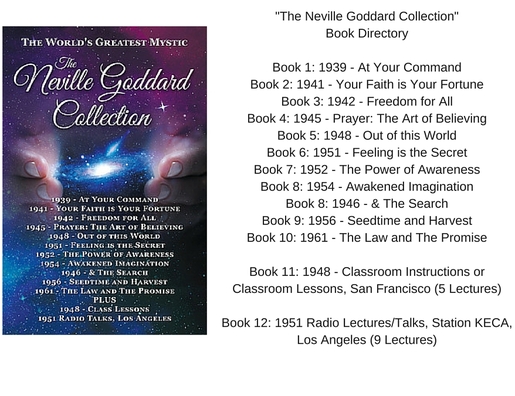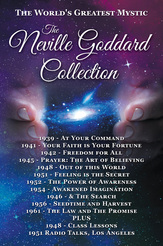 Introduction

The Neville Goddard Collection is priceless collection of the best mystical books, any seeker of truth will ever likely come across, in his or her lifetime. This volume not only contains his 10 mystical masterpieces of metaphysical truth, but also includes his 1948 Classroom Lessons, (his most famous) and July 1951 Radio Talks, both of which could and should be considered books in themselves.

Neville's books are priceless in of themselves and such a collection is deserving of attention to detail in the manner in which it is presented, which will make any student's study, not only more enjoyable, but easier to digest. I believe I have accomplished just that with this collection.

Reformatted, reconstructed, with an entirely new layout, "The Neville Goddard Collection" will make studying a pure joy.

The truth you are seeking is to be found within this book. There has never been a teacher of truth that has been able to reveal it to the rest of us, quite like Neville Goddard.

While most 'teachers' profess that there is a power within us or use words like law of attraction, universe, subconscious or source, they never tell us exactly what this source or this power is. Neville tells us exactly what this power is, he tells us exactly how to use this power and he doesn't use fancy words to capture the attention of the reader. He explains in full detail just how to obtain all the desires of your heart, which is through consciousness, imagining and feeling, without having to "work" to get it. The world is at your command.

Without Neville's books, most people will never know or discover the truth of who we really are and how consciousness, awareness of being, assumption and imagination fused with the feeling of the wish fulfilled are the real creators of our reality and by understanding that, we now know that The I AM within us, is the operant power.


---
Books and Chapters Index for The Neville Goddard Collection


At Your Command

Your Faith is Your Fortune

Chapter 1: Before Abraham Was
Chapter 2: You Shall Decree
Chapter 3: The Principle of Truth
Chapter 4: Whom Seek Ye?
Chapter 5: Who AM I?
Chapter 6: I AM He
Chapter 7: Thy Will be Done
Chapter 8: No Other God
Chapter 9: The Foundation Stone
Chapter 10: To Him Who Hath
Chapter 11: Christmas
Chapter 12: Crucifixion and Resurrection
Chapter 13: THE I'M-Pression
Chapter 14: Circumcision
Chapter 15: Interval of Time
Chapter 16: The Triune God
Chapter 17: Prayer
Chapter 18: The Twelve Disciples
Chapter 19: Liquid Light
Chapter 20: The Breath of Life
Chapter 21: Daniel in the Lions' Den
Chapter 22: Fishing
Chapter 23: Be Ears That Hear
Chapter 24: Clairvoyance – Count of Monte Cristo
Chapter 25: Twenty-Third Psalm
Chapter 26: Gethsemane
Chapter 27: A Formula for Victory


Freedom for All

Chapter 1: The Oneness of God
Chapter 2: The Name of God
Chapter 3: The Law of Creation
Chapter 4: The Secret of Feeling
Chapter 5: The Sabbath
Chapter 6: Healing
Chapter 7: Desire, The Word of God
Chapter 8: Faith
Chapter 9: The Annunciation


Prayer: The Art of Believing

Chapter 1: Law of Reversibility
Chapter 2: Dual Nature of Consciousness
Chapter 3: Imagination and Faith
Chapter 4: Controlled Reverie
Chapter 5: Law of Thought Transmission
Chapter 6: Good Tidings
Chapter 7: The Greatest Prayer


Out of this World

Chapter 1: Thinking Forth-Dimensionally
Chapter 2: Assumptions Become Facts
Chapter 3: Power of Imagination
Chapter 4: No one to Change but Self


Feeling is the Secret

Chapter 1: Law and its Operation
Chapter 2: Sleep
Chapter 3: Prayer
Chapter 4: Spirit – Feeling


The Power of Awareness

Chapter 1: I AM
Chapter 2: Consciousness
Chapter 3: Power of Assumption
Chapter 4: Desire
Chapter 5: The Truth That Sets You Free
Chapter 6: Attention
Chapter 7: Attitude
Chapter 8: Renunciation
Chapter 9: Preparing your Place
Chapter 10: Creation
Chapter 11: Interference
Chapter 12: Subjective Control
Chapter 13: Acceptance
Chapter 14: The Effortless Way
Chapter 15: The Crown of the Mysteries
Chapter 16: Personal Impotence
Chapter 17: All Things Are Possible
Chapter 18: Be Ye Doers
Chapter 19: Essentials
Chapter 20: Righteousness
Chapter 21: Free Will
Chapter 22: Persistence
Chapter 23: Case Histories
Chapter 24: Failure
Chapter 25: Faith
Chapter 26: Destiny
Chapter 27: Reverence


Awakened Imagination & the Search

Chapter 1: Who is your Imagination?
Chapter 2: Sealed Instructions
Chapter 3: Highways of the Inner World
Chapter 4: The Pruning Shears of Revision
Chapter 5: The Coin of Heaven
Chapter 6: It is Within
Chapter 7: Creation is Finished
Chapter 8: The Apple of Gods Eye
The Search


Seedtime and Harvest

Chapter 1: The End of a Golden String
Chapter 2: The Four Mighty Ones
Chapter 3: The Gift of Faith
Chapter 4: The Scale of Being
Chapter 5: The Game of Life
Chapter 6: "Time, Times and an Half"
Chapter 7: "Be Ye Wise as Serpents"
Chapter 8: The Water and the Blood
Chapter 9: A Mystical View


The Law & The Promise

Chapter 1: "The Law" Imagining Creates Reality
Chapter 2: Dwell Therein
Chapter 3: Turn the Wheel Backward
Chapter 4: There is no Fiction
Chapter 5: Subtle Threads
Chapter 6: Visionary Fancy
Chapter 7: Moods
Chapter 8: Through the Looking Glass
Chapter 9: Enter Into
Chapter 10: Things Which Do Not Appear
Chapter 11: The Potter
Chapter 12: Attitudes
Chapter 13: All Trivia
Chapter 14: The Creative Moment
Chapter 15: The Promise: Four Mystical Experiences


The 1948 San Francisco Classroom Lessons

Lesson 1: Consciousness is the only reality
Lesson 2: Assumptions harden into fact
Lesson 3: Thinking fourth dimensionally
Lesson 4: No one to change but self
Lesson 5: Remain faithful to your ideal


The July 1951 Radio Lectures/Talks

Talk 1: Be What You Wish, Be What You Believe
Talk 2: By Imagination We Become
Talk 3: Answered Prayer
Talk 4: Meditation
Talk 5: The Law of Assumption
Talk 6: Truth
Talk 7: Stone, Water or Wine?
Talk 8: Feeling Is The Secret
Talk 9: Affirm The Reality Of Your Own Greatness


---
Other Neville Goddard Books You Might Be Interested In