---
Discovering The Ancient Teachings.
---
---
For those Wise Men of the East had grasped, thousands of years ago, the fundamental fact—so hard for our Western minds to realize—that deep down within ourselves, far under our outer layers of consciousness, is a Power that far transcends the power of any conscious mind.

"The Holy Spirit within us," deeply religious people term it. And, truly, its power is little short of Divine.

"Our Subconscious Mind," so the Scientists call it.

Call it what you will, it is there—all unknown to most of us—a sleeping Giant who, aroused, can carry us on to fame and fortune over-night, A Genii-of-the-Brain more powerful, more the servant of our every right wish, than was ever Aladdin's fabled Genii-of-the-Lamp of old.

Health and happiness, power and riches, lie ready to its hand. You have but to wake it, to command it, to get of it what you will. It is part of you—yet its power is limitless. It is Mind—Thought—Idea. It is an all-powerful mental magnet that can draw to you anything you may desire.

Just as electricity turns the inert electric bulb into a thing of light and life—just as the gasoline vapor turns your motor into a creature of speed and action—just as steam awakens the locomotive into an engine of power and usefulness—so this mental magnet can vitalize YOU into a Being capable of accomplishing ANY TASK YOU MAY SET, capable of rising to any height, capable of winning love, honor and riches. - Robert Collier
---
More To Come. :)
---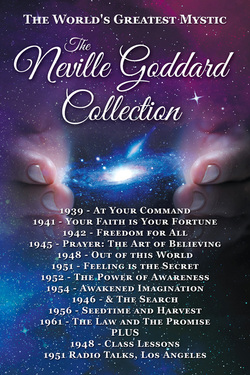 The Neville Goddard Collection - The Most Complete Reader Available. All 10 Books Plus 2 Lecture Series. Includes At Your Command, Your Faith is Your Fortune, Freedom for All, Prayer The Art of Believing, Out of this World, Feeling is the Secret, The Power of Awareness, Awakened Imagination & 1946 - & The Search, Seedtime and Harvest, The Law and The Promise, The 1948 Class Lessons/Lectures/Instructions & The July 1951 Radio Talks.
---