Whom Has God Afflicted . . Date Unknown
Tonight's subject is . . "Whom God Has Afflicted."
"Whom God has afflicted for Secret Ends, He comforts and Heals and calls them Friends.' [Blake, from "The Everlasting Gospel"]
In the 119th Psalm it says
"This my comfort in my affliction that thy promise gives me life. Before I was afflicted I went astray; but now I keep thy word. It is good for me that I was afflicted, that I might learn thy statutes."
[Psalm 119»5,67,71]
And then we are told in the Book of Job, the 36th Chapter:
"He delivers the afflicted b£ their affliction, and opens their ear by adversity." [Job 36:15]
Now, whom does He do it to? To what Being is He doing it? Well, let us turn to Scripture. The Book of Genesis is the "seed" plot of the entire Bible. It is all there, but it is an adumbration. It's a foreshadowing in a not altogether conclusive or immediately evident way, but it is all in Genesis. And the book begins in this manner
"In the beginning God,. " and then it ends in this manners " in a coffin in Egypt." "In the beginning God," . . "in a coffin in Egypt."
The story is all about God. Everything in the world is God. I am looking only at God masked as I look at you. Behind that mask is God! And the whole thing is done by God to Himself. So here, "Before I was afflicted I went astray, but now I keep Thy word." It's my own word that I pronounced before I came down into this world of "death."
Here is a vision that might aid the understanding of this mystery. She is not here tonight; she gave me the letter last lecture night. She said, "I had this vision. I was Infinite Spirit, and I knew I was Infinite Spirit. There was nothing but my Self. And I desired to go out into the world, although seemingly there was no other place . . no 'world'; yet I desired to go out into the world, but I knew I had to have form to be seen, to communicate, and I made for myself a box . . a long, elongated box . . of wood. And then suddenly there was absolute darkness. You can't conceive of the blackness and the restriction . . a complete restriction, as though you could not concentrate or bring oneself to any greater point of restriction than that moment, as I found myself in the box. That was the cause of the blackness and the restriction and the contraction.
'The box could see, it could hear, it could speak, it could move; it could do everything that I willed it to do. And then came that moment in time when I desired to leave it. It came the end. I had experienced what it was to see and to think and to hear in this world of 'death,* And then I found myself looking down on what I thought to be my bed. I thought a body was on it, but I couldn't quite see it because of the crowd around the body. On three sides of the bed were people looking down, bending over; and then one said, 'She is dead.' And I thought, 'Dead? Why that's impossible! It cannot die. It has never lived! Only when I occupied it . . when I was in it . . did it see: to live. But it cannot die.' So they said, 'The box is dead.' Why, the box has never been alive . . only as I occupied it. Only as I entered into that box did it become seemingly alive. And the shock was so great that I awoke."
It's a marvelous vision. We are "wearing" this "box." Now, the box, in Hebrew, . . the word translated "box" also means "ark." It means, also, a "coffin."
So, "In the beginning God, in a coffin in Egypt." I AM the first and the last, the beginning and the end. So, God actually became man for a purpose beyond the wildest dream of the "box" in which God is now residing. He reached the limit of contraction by becoming man, that He may expand beyond the wildest dream of Himself prior to the contraction. It is a constant expansion of The One Being that is God. And you are that Being!
We are Elohim. We are the gods that came down and assumed the limitation of man, and it is an affliction. But He afflicts Himself!
"Thou also sufferest with me, although I behold Thee not. . . . And then the Voice answers
Fear not! Lo, I AM with you always, even to the ends of time. Only believe that I have power to raise from death Thy Brother who sleeps in Albion," . . in Universal Humanity.
[Blake, from "Jerusalem," based upon Psalms 14 and 53]
So, buried in everyone of us is God. His name is I AM, forever and forever. But how will I know that I will awake? He has arranged the entire return to Himself. He prepared the way for Himself to return, and that way is described in Scripture. It is told beautifully in the Old Testament; but, again, it's an adumbration. It's a rough sketch.
The New Testament explains it, but man sees it in a strange light. He thinks it is secular history, and it's not secular history. The whole thing is divine history. You take the story of Jesus Christ. It's not something taking place here on earth. It didn't take place here. It took place within man . . an entirely different sphere.
Now, let us go back. The story of Job is the story of every man in the world. If you are familiar with the story, he was innocent; he did nothing that really should have caused the horrors that descended upon Job. Read it carefully.
But .in the last chapter, Job is made to say, "I have heard of Thee with the hearing of the ear, but now my eye sees Thee.*' And then God, not only forgave him, . . He couldn't forgive him; he did nothing that was wrong, but God multiplied his gifts on earth . . doubled them. Then all of his brothers and his sisters, and all of those who knew him before came to sympathize with him, . . they ate bread with him in his house, . . "for all the evil that God had brought upon him." These are the words of the 42d Chapter of Job (Job 42ill].
Now, the word "Job" means "Where is my father?" Where is the cause of the phenomena of life? Where is the source of it all? That's the Father. That is the search of every person in the world. He may not know it, but he is looking for the source . . for the cause . . for the Father of the phenomena of life. That's Job.
In the end, he sees Him. Whom does he see? There is only one way you'll ever know the Father. You'll not in Eternity . . I can stand here from now to the ends of time, and I could not persuade you to the point of conviction until you have the experience.
In the Old Testament, you are told that God is a father, and He singles out one person and calls that one His son. If that one is His son and that one stands before you at the end of your journey, and then memory returns . . for it's only God returning in memory, for we are the gods forming the God; and if in the beginning there was a fatherhood that is God, . . and fatherhood implies a sonship somewhere, . . and if that son stands before you, and then suddenly memory returns and you know he is your son, and he knows you are his father, in the fulfillment of Scripture, then . . and only then . . do you know Who-You-Are.
I could tell you from now to the ends of time that you are God. You aren't going to believe me. You will say, "If I AM God, why can't I do this, that and the other?" You do not know the purpose behind the affliction . . the contraction that you imposed upon yourself. You did nothing that was wrong to bring about this contraction. It was deliberate on our part! We agreed in concert to dream the Dream of Life and to come down into the world of "death" and experience "death," for we couldn't in the world of Life . . we couldn't in the world of Light and Infinite Power. We had to contract ourselves to experience "death," and so we did.
Humanity, as we see it, is part of the eternal structure of the Universe. It's part of the structure. We actually came down into the part of the structure called "Man" and entered Man, and Man is "death And we turn "death" into sleep and dream the Dream of Life.
"Infinite Mercy turned Death into Sleep,
And then arose the Sexes to work and to weep."
[Blake, from "To Tirzah"]
Here we are multiplying this form that is man, but you are not the form that you are "wearing." We are not this garment [indicating the physical body]. You are God! Everyone in the world is the Immortal God! But this experience is essential for an expansion, and there is no limit to expansion. There's a limit only to contraction. So, we took the limit of contraction upon ourselves and became man. So, her vision was perfect. She saw that box . . an elongated box.
Now let us take the word "temple" in Scripture. First of all, the word "box" or the word as she saw it, an elongated thing called a "box,' which is the coffin, is "aron." That is the Hebrew word for it, "aron.' Now here comes the word that we translate as the word "temple" or "tabernacle." It also means a "grave." So, when I read in Scripture:"Do you not realize that you are the temple of the Living God? and the Spirit of God dwells in you" [First Corinthians 3:16], I could say, "Do you not realize you are the grave of God? and the Spirit of God dwells in you," . . the grave? and one day He will awaken in the grave; and one day He will resurrect from that grave, and He will come out of the restrictions that He has imposed upon Himself, for the word is "grave.''
The "temple of God" is Man, as we are told in Paul's Letter to the Corinthians, his 3d Chapter, 16th verse, of First Corinthians. "Do you not know that you are the temple of God, and the Spirit of God dwells in you?" And the Spirit of God and the name of God are one, and His name is I AM. Can you put "I AM" aside from yourself? You can't stand apart and observe I AM; therefore, you cannot see God. You cannot see God as you do objects in space, for you are the Reality called God. But you can know God when His Son stands before you, and you know that you are looking into the eyes and the face of your son. Well, that son is David of Biblical fame. Then you will know the words: "I have found David, and he has cried unto me, Thou art my Father, my God, and the Rock of my Salvation."
Then you will know these words . . and the words are put into the mouth of David: "And the Lord said unto me, Thou art my son,*today I have begotten thee." [Psalm 2:7]
So here you are seen in the relationship of Father-Son; and only as this is actually experienced by the individual does he really know Who-He-Is. Until then, he is worshiping a false god; he's worshiping something outside of Self, and there is no one outside of Self to whom you should turn. As Blake said:
" Why stand we here trembling around,
Calling on God for help, and not ourselves, in whom God dwells?"
[from "Jerusalem"]
He dwells in us as our own wonderful human imagination. That is God ! "Babel mocks, saying There is no God or Son of God:
That Thou, 0 Human Imagination, art all
A delusion; but I know Thee, 0 Lord," --
"I know Thee when Thou arisest upon My weary eyes, even in this dungeon," . .
in this strange, mortal for "Thou sufferest with me, although I behold Thee not."
[from "Jerusalem"]
No, I can't see. How can I behold that Reality that I am as an object other than what I AM? I can behold objects round about me; but I AM the Reality beholding objects. So, how can I behold it? How do I know Who . . I AM? I will know Who-I-Am only when my son appears before me and calls me "Father."
I suffered from amnesia when I came down into this world of "death,' as you are suffering from amnesia . . total amnesia, and you've forgotten your Divine Being. You are God! There is nothing in the Universe but God. There's no room for any being but God.
Back in 1926, in Larchmont in New York, I retired early because I was a guest of the Manager. It was a club . . a private club. It was a Saturday night. In those days we had Prohibition; there was no alcohol, but you could always get it. People got it, and this was given over to the children, . . that is, the kids in 1920 and so on; and they had such wild bands. But the manager of the club, . . I was his guest; he said, "I don't think it would be quite the thing to do, as my guest, to mingle with the members and the guests of the members." Well I accepted that restraint, and so I went to bed.
In 1926 I was only 21 years of age, and I was a professional dancer I would have loved to have gone out on that dance floor and spend the entire evening dancing; but, no, protocol would not allow it. And I did a thing that I rarely do, if ever. I read in bed. I took a book; it was a book on the life of Buddha. I turned on the little night lamp on the bed and started to read the book. At what hour I fell asleep, I do not know; but I must have gone out quickly into a deep, deep trance, for when I awoke in the morning . . and that music was going all through the night until about 3i00 in the morning, so I was told. I didn't hear anything; but when I awoke in the morning, the book was on my chest, . . hadn't turned in the interval; the light was still on, and the sun was up, and it was 9:00 in the morning.
I fell into a deep, deep trance, and in that trance I was Infinite Light. There was no universe beyond me . . no starts, no sun, nothing. I was Infinite Light; there was no circumference. I was the "Light of the World." And by "world," I did not mean the world measured by the sun and the planets around it, I mean Infinity . . pulsing, living, liquid light.
And then I awoke, and here was this thing on my chest, and I returned to the contraction of the little body called "Neville."
So, I know when Scripture teaches, "I AM the light of the world," it's a true revelation. I also know when it teaches that "God is Infinite Love," that that is a true revelation. And in spite of all the afflictions that you and I suffer . . and others suffer and will continue to suffer . . there is a Love behind it all.
Now listen to these words!
"No greater love hath any man than this, that he lay down his life for a friend. Though I call you Friends I no longer call you slaves, for a slave does not know what his master is doing; but I call you Friends, for I have told you everything that I have known from my Father." [John 15«13-15]
Now we go to the poet Blake, and these words are put into the mouth of the one who just made that statement, and he said:
"Fear not. . . . Unless I die, thou canst not live; But if I die I shall arise again and thou with me . . . Wouldst thou love one who never died For thee, or ever die for one who never died for thee? And if God dieth not for man and giveth not himself
Eternally for Man, Man could not exist." [from "Jerusalem"]
So, God dies. He dies by actually giving up the Being that He is, emptying Himself of all that is Him, and taking upon Himself the form of a slave . . the form of that "box," that coffin, and enters that box; and His name is I AM, but He doesn't stop there in the box. He calls it by a name. He says, "I am Jim," "I am Neville," "I am Dora," 1 am Ida," "I am This"; and so we go beyond His real name, which is I AH, and we put a little tag on it, and we become so identified with the little mask that we are "wearing" that we don't realize Who-We-Are. And in that interval we are suffering from total amnesia. And one day, in the fullness of time, He awakes; and He had plotted the entire thing before He started. He had prepared the way for His sons to return, for the Father is made up of the sons. The word "Elohim" is a plural word, which means "God" in the plural sense. But put together, it is the Lord. It is Yod-He-Vau-He; but it's all the names in the world . . everyone in the world. Put them all together, and they form The One God . . the one Lord.
So, He has prepared the way for all of His sons to return; but this time, when they return, they are God the Father! It's a complete transformation of the sons into the Father.
And then a new . . what is the new adventure? I do not know. Another grand adventure beyond this. When this comes to an end, and the curtain comes down upon it and we all are One, we are no longer sons of the Father; we are the Father. That is the purpose of sending all of His sons which make Himself into the world of "death." And then we come out, and we are God the Father because we are the father of the Lord's only begotten son.
And humanity, as far as I am concerned, . . the forms remain the eternal structure of the Universe. You are not the mask that you are "wearing." You are God! For, "Whom God has afflicted for secret ends, He comforts and He heals, and He calls them Friends."
"Before I was afflicted I went astray; but now I keep Thy word And this is my comfort in my affliction that thy promise gives me life."
[Psalm 119:67,50]
Well, the fundamental Promise in Scripture is the promise made to Abraham! "I will give you a son." It doesn't state that it is God's son; it is implied that it is His son. The name is Isaac, meaning "he laughs." And when that infant is presented to you, he breaks into this heavenly smile, . . he laughs I . . a most unusual, heavenly smile as you hold him in your arms . . that infant child.
And then the next one is the Son, and he is the youth. He is David. So, the fundamental Promise is the promise made to Abraham, and that was the promise of a son.
Now you and I, if you knew how old you are, you would say, It's impossible. The bodies you "wear** may still be capable of siring or bearing a child; but you are not the body that you are "wearing." You are eternal. If you knew your age, . . and you can't measure your age because you have no beginning; you would say if you actually could know how long you have been on the journey, "How is it possible for one so old to have a child?** But the "child" is part of the "play," . . part of the drama that's recorded in Scripture. And the day will come, everything said of Jesus Christ you are going to experience in a first-person present-tense experience; and you will know who Jesus Christ is, because everything said of him is going to happen to you. And you will go through the entire story, and then you'll know who Jesus is.
You need not tell it to the world. You need not. You could tell it in the written form. If you are tempted to tell it, you'll get the same rebuff that you find in Scripture "He came unto his own, and his own received him not."
When he came unto his own, they said, "The man is mad. Why listen to him? He has a demon and is mad."
Anyone who will ..tell you what I've told you this night in a larger crowd where they are not geared to this way of thinking would think me entirely mad, to tell you that you in this Century . . born in the 20th Century . . that you are actually the father of God's only begotten son, and that son is not of flesh and blood. Read the story carefully: He came in spirit when he called him "my lord." And he said to him, How can I be his son when he, in spirit called me "my lord"? Not in the flesh, . . this is not something that takes place in the flesh. While you walk the world in the garment of flesh, it takes place in you, but in a region completely remote from this world.
If I told you at this very moment that you are not altogether sitting in the place where you seem to be before my eyes, . . you are an infinite being, . . but how to describe it? How to tell you that at this very moment, while you seem to be all put together and collected in a thought and listening to me, that you are not all here? It doesn't make sense. Yet I tell you that you are not. You are an Infinite Being.
I do believe those who come here are not far from that moment in time when the drama completely erupts within them, and they will prove that everything I've told you is true, . . everything that I've told you, for I'm not speculating. I am telling you what I have experienced; and the story of Scripture is a true story. The Hebraic-Christian faith is the fundamental faith; and all the other little -isms that will lead you astray . . forget it! This is the fundamental faith.
Now let us go into the Silence.
---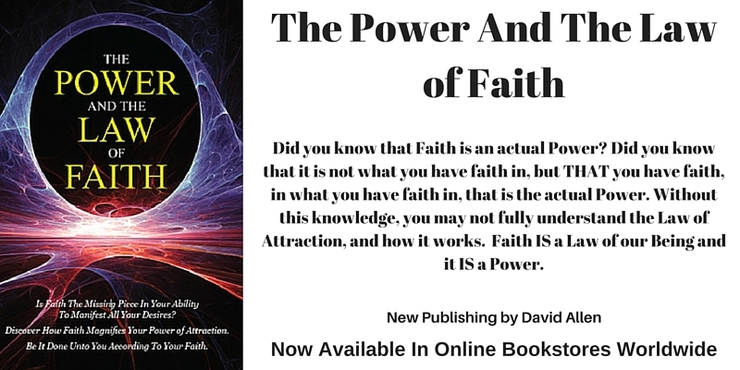 Faith is that something in man that transcends every form of limitation and opens the mind to the limitless powers of the soul. It is Faith that emancipates the person; it is Faith that unfolds the unbounded greatness of the soul; it is Faith that removes the veil of mystery and reveals to man that wonderful world, that limitless world, that divinely beautiful world that is within.

Faith has been the hidden secret of the great souls in every age; Faith has been the secret through which all miracles have been wrought; Faith has been the secret through which the prophet gained his wisdom and his power; Faith has been the secret through which the sons of glory gained their rare and wonderful genius; Faith has been the secret through which everything high, everything worthy and everything beautiful has been given to the world.

It is Faith that the awakened minds have eternally sought to find, though not always knowing that the hidden secret was Faith, and Faith alone; and it is Faith that will change the world, as the world should be changed, when its inner sanctuary has been entered by the mind of man.

Faith is the hidden secret to everything; the key that unlocks every door that may exist in the universe; Faith is the perfect way to that inner world from which all things proceed; Faith is the royal path to unbounded power, immeasurable wisdom and limitless love; Faith is the gates ajar to that kingdom which first must be sought if all other things arc to be added; Faith is the hidden secret to every desire and need of man.

By a right understanding, and by using right thoughts and words, man will regain the kingdom within him and will be reinstated in the Garden of Eden. This process of man's taking up power and dominion again is now being carried out in all those who are seeking the righteousness of the Christ consciousness. In this higher-thought realm, all ideas pertaining to the life of man are in harmonious relation, and when we ask in silent thought for this knowledge, our mind is flooded with its light. We apprehend only according to the receptivity, steadfastness, understanding, and persistent Faith of our mind. But we grow in Faith and understanding, and no matter how slowly we seem to be progressing we should never be discouraged or give up. Everyone is heir to this higher-thought consciousness, and all must eventually attain it. When the beauty of this spiritual realm is spread before us we should express gratitude . . give thanks to the great Soul of the universe. When the astronomer Kepler realized the grandeur of the laws that were revealed to him, he exclaimed: "O God, I AM thinking Thy thoughts after Thee."

The life is fullest that is most replete with creative images, that ventures most in Faith into the Unseen but not Unknown. And the dreamer is no longer to be despised. Dream your dreams, see your visions, picture your good, knowing that you draw forth from the inexhaustible resources of heaven just what your Faith demands. Vision and Faith will carry you across every sea of despair, every mountain of difficulty. Ask, with Faith, believing.

Faith is an attitude of mind that turns the superior sense of man towards the inner, the hidden, the unseen, the great beyond, and takes consciousness into those finer realms where everything is perfect, and far more real than that which appears to visible sight. Faith demonstrates that that which seems unreal is absolutely real; that that which seems hidden can be revealed to any mind, and understood by any mind; and that the invisible becomes visible to all those who will open the full vision that exists within them. Faith demonstrates that the inner world is far more substantial than the outer world, and that the farther we proceed into the great within the more substantial, the more real, the more perfect and the more beautiful everything becomes. One of the principal functions of Faith is to enter the boundless and awaken the great within; and since all increase in life, power and ability comes from the awakening of a larger and a larger measure of the within, we understand perfectly why all things are possible to him who has Faith.

All things visible come forth through Faith from the invisible Spirit substance itself. Have Faith in God, actually in him, that is, within him. See your desire in God, and know that he manifests as the fulfillment of it. Since God is the omnipresence, he is the source of all things visible and invisible. Being all, God has no consciousness of either lack or possession, only the realization of being all . . all that is. It is his joy, then, to be the fulfillment, or that which fills full, your desire.

Persistency in Faith is like fire under the boiler. Faith generates the Energy necessary to success. There is nothing that cannot be accomplished through Faith. But the trouble with most persons is that they do not hold to their Faith long enough to realize the fulfillment of their desire. They are up today and down tomorrow. Their Faith works by fits and starts. They lack the stick-to-itiveness which brings success. St. James says of such a person: He that wavereth is like a wave of the sea, driven with the wind and tossed. Let not that man think that he shall receive anything of the Lord. The Law says that if we want success we must have Faith and persistency. The promise is that In due season we shall reap if we faint not. The faint heart cripples Faith and limits its capacity for worthwhile achievement. You cannot lose if you hang on.

Faith transforms failure into success. These persons feel that they are in league with the Powers of the universe, and they fear nothing human or diabolic. The forces of environment and heredity, terrible though they be, are broken and driven from the field. Hope takes the place of despair, and the energies of a new life reach out in every direction.

All things that are seen have been made of the substance of Faith. "Faith is the substance of things hoped for, the evidence of things not seen." The very worlds were brought forth through Faith by the word of God so that "Things which are seen were not made of things which do appear." All things are made of the invisible substance of God, "framed by the word" through the power of Faith. When you frame a picture, you outline it, or enclose it in its frame. Even so do you frame, or outline, your desire by the word you speak. What Faith pictures have you been outlining, or framing, by the power of your word? Have these pictures been of Faith or of fear? There is a law of fear as well as a law of Faith. Job found that what he feared came upon him. He had framed in mind a fearful picture, and it became manifest. The Master said, "Fear not, only believe " for it was his desire that man should know he could frame ideal conditions through the power of the word and so experience freedom instead of bondage.

Fear is the shadow side of Faith. It works against you rather than for you. Therefore, fear not, believe only. Let all your force be used in believing. Waste none of it in fear. Have Faith only . . no fear at all. Fear is born of untruth, believing in the power and presence of evil. The truth is, God is all and he is good. He is the only power, substance and intelligence. Have Faith in God, the good. Fear is negative and creates every negative condition. It brings undesirable things only. Faith is positive and creates positive conditions. It brings all that is good and desirable. "Faith is the substance of things hoped for," or desired. Desire that which is good, then have Faith. It is to be formed of the very substance of your own Faith, for Faith is substance . . mind substance.

This is one of the greatest truths of all truths, and should not only receive profound attention from every mind, but it is a truth that should be constantly held in every mind. To live, think and act in the spirit of this truth . . the truth that you live and move and have your being in a world of unlimited power and that through Faith all of this power is placed at your command . . to live in this truth, with Faith, is to open the mind more and more to the perpetual influx of this power, until you gain so much of this power that nothing becomes impossible to you henceforth and forever. That there is such a world no one can doubt; that Faith is the hidden path to that world anyone can demonstrate; anyone can also demonstrate that we gain possession of an immense power while we are in that world, and that the power continues to be our own so long as we remain in the full Faith; it is therefore evident that those who will continue permanently in the full Faith will accomplish everything they may undertake to do.

God himself has given you the power of Faith. It is a law. It is a law which he has given to make you free. Until you use the law of Faith you are in bondage to every earthly condition; but once you become conscious of the "Faith that worketh by love," you are forever free. Knowledge of freedom through the law of Faith is one of the great gifts given to the world by the Master. How he plead with man to use it!

Lack of health is not prevalent in God's universe. If such lack appears anywhere it is the work of man. It is our duty to do away with it. There is something wrong in a world where suffering and sorrow prevail. We would not create such a world. We all want to see these things blotted out in this world. This is the index pointing the way to the possibility of doing so. Just accept the promises of Scripture. Proceed to carry them out in Faith. Act as if they were true. Trust God in all things. Whatever we see as wrong is for us to right. The new Christianity elevates man to a realm in which seeming miracles of healing become possible to those who train their mind to think spiritually.

Faith is not something which lies outside the self, but a consciousness within the self. Everyone has Faith, but few recognize it, and only the very few know how to use it, and what it can accomplish. The Master made no limit to the power of Faith. "If ye have Faith as a grain of mustard seed . . . nothing shall be impossible unto you/' That Faith lies within the individual, he clearly indicates in the following: "Thy Faith hath made thee whole." "According to your Faith be it unto you." Again, he asked, "Where is your Faith?" At another time he questioned them in wonderment, "How is it that ye have no Faith?" Thus we see the first evidences of Faith are to be found within the individual. It is there in some form, and it is always exercised though often unconsciously. Now that we are learning the wonders that may be produced through Faith, it is time to awaken to its presence within us and to exercise this power until it accomplishes for us the works we wish it to do.

WHAT ARE THE SIX STEPS IN DEMONSTRATION?

The first step is to formulate our desire . . to see it clearly in Mind. The second step is to impress it with deep feeling upon the Subconscious Mind, to see ourselves accomplishing that thing. The third step is to exercise our Faith by accepting the desire as fulfilled. The fourth step is to keep our feeling and thinking moving with our desire. The fifth step is to order our conversation aright . . to speak always in terms of expectancy and fulfillment. The sixth step is to carry our desire into action . . to act as if it were already fulfilled.

Rise in consciousness to the level of your desire and make yourself one with it by claiming it to be so now. Have Faith in this unseen claim until the conviction is born within you that it is so. Your confidence in this claim will pay great rewards. Just a little while and he, the thing desired, will come. But without Faith, it is impossible to realize anything. Through Faith, the worlds were framed, because "Faith is the substance of the thing hoped for – the evidence of the thing not yet seen"

As the unmanifest and uncreate Being, which fills the universe, is all life, all law, substance and power, all Mind, Principle or Spirit, it is axiomatic that, if we speak the truth which frees, we are to speak the word of the all; therefore, as all Being is uncreate, all life, law, substance and power are unmanifest, silent and invisible, until through thought they are spoken and made manifest. To base our Faith aright is to base it in the unseen and Unmanifest Spirit; and as it is the only Being, we cannot be Faithful but by speaking its word; and, as there is but one Cause or Creator, to speak the word of the one is to speak the word of all, and that word is truth to each one at all times, and in every place. To base our Faith in material things, things that are seen, is to base it in effect or shadow, which is neither life, law, substance nor power. As temporal things pass away, the foundation upon which we have builded is as sand; disappointment, sorrow and pain follow such building, as the wheels of the carriage follow him who draws the carriage. We are to realize that the unseen, uncreate Spirit of Goodness, is that which creates and manifests all; so, if our Faith be based aright, we shall place ourselves in thought at one with Spirit, and work to manifest the Faith of Spirit.

Since Faith is the hidden secret of all life, and is absolutely indispensable to existence, we all have Faith just as we all have life; to find Faith, we are therefore not required to search for something we never knew; we are simply required to have more Faith in the Faith we already possess; the greater things will invariably follow.

Fear, humility, love, trust, remorse, the joy of reconciliation, the pain of estrangement, are all emotional states. Moreover, there is a vast and half-explored background of vague feeling which fades away into the subconscious, a reservoir of life behind consciousness, which seems as if it might be the very soil out of which Faith springs and grows. If we could tap this subliminal self, and force it to give up its secrets, should we not find our Faith definite, explicit, and self-sufficing?

Through the growth of Faith . . the real Faith, the mind becomes more and more aware of this inner world, and consciousness opens more and more to receive its limitless power; the entire personality becomes filled with the power, and before long you feel that an immense power is with you every moment of existence. This brings the realization that nothing is impossible; you never hesitate to undertake anything that is worthy, no matter how great and extensive the undertaking may be, because you know there is a power with you that can do all things. You feel that this power is working through you; you feel that it is your power; therefore, anything worthy that you may undertake, the same shall be done. To enter this realization is to gain more power from the very beginning; therefore, he who enters Faith will begin at once to accomplish greater things and better things, whatever his work may be; and as for his future, it is as great, as wonderful and as beautiful as he may desire to make it.

---